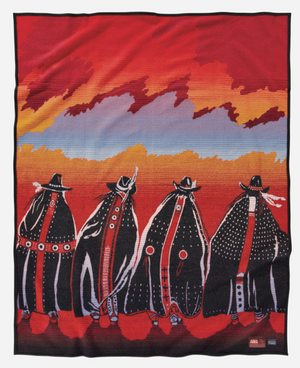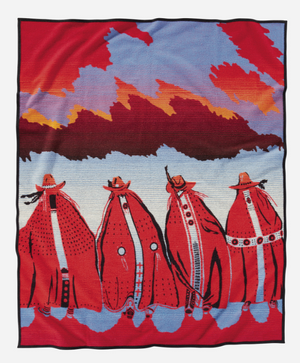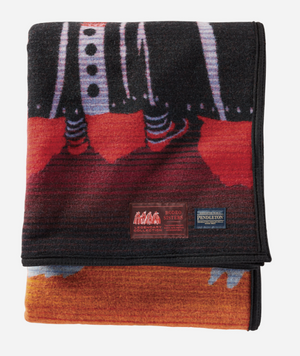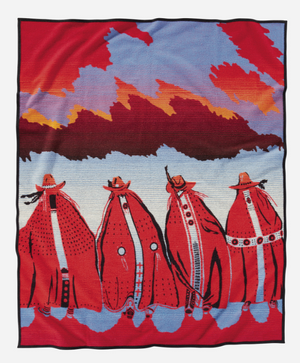 Pendleton Rodeo Sisters Blanket
A vibrant work of art designed by the late artist Apolonia Susana Santos. Four Native American women draped in blankets stand in line at sunset, each adorned with abalone and bells. Atop their heads are Western-style hats; on their feet they wear moccasins and tooled boots. This USA-made blanket is presented in a robe (twin) size—perfect as a wall hanging or draped over a sofa. Reverses for two dramatically different looks.
Part of our Legendary Collection, this design honors stories and symbols of Native American cultures. Each year a new collector's blanket is added to the series.
Comes with a Legendary Collection label
64" x 80"
Napped; fabric is combed for a softer, thicker feel
Felt bound
Pure virgin wool/cotton
Fabric woven in our American mills
Dry clean
Made in USA
About the artist
Susana Santos (1954-2006) was a painter, serigrapher, sculptor, writer and activist of Tygh/Yakama ancestry. Her use of rich colors, textures and natural materials created vibrant landscapes that illuminated historic and contemporary Indigenous life. Susana's art shows, writings, public speaking and theater-style marches encouraged Native youth to always "Remember who you are."