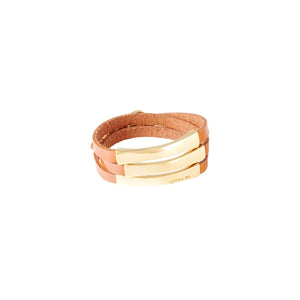 Blackout Camel Bracelet
This ethnic camel bracelet with leather strips consists of three levels, each adorned with rectangular metal plates in the center. Gold plated metal, these original plates are arranged on top of each other. 
GOLD PLATED PIECES:

Clean with a soft cotton cloth, damped with warm water and mild soap in case the piece is very dirty.

LEATHER:

Clean leather parts with mild soap or an unscented and colorant free moisturising cream.